According to the National Institute of Dental and Craniofacial Research, adults between the ages of 20 and 64 have an an average of 25 out of 32 natural teeth remaining. Missing teeth can take a serious toll on your self-confidence and make eating and speaking a challenge. Fortunately, dental implants provide a stable, secure foundation for dental crowns, bridges, or dentures. Dr. Arlene Caringal and her associates can place and restore dental implants at our Toronto and Scarborough, ON, locations. By practicing good oral hygiene and attending regular checkups, dental implants can last a lifetime.
What to Expect: Planning for Implants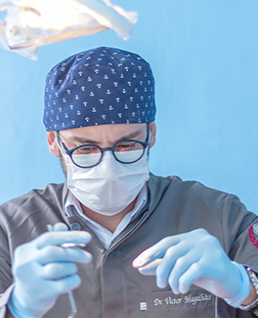 The first step of dental implants treatment is a consultation at our practice. During your visit, we will review your medical history and examine your teeth, gums, and jawbone using digital x-rays.
In order to qualify for implants, you should be free of periodontal disease and be healthy enough to undergo surgery. You must also have sufficient bone tissue in your jaw to support the implant posts. If you do not have enough quality tissue, you may require a preliminary bone graft or sinus lift. Keep in mind that this will add four to six months to your treatment timeline. Alternatively, you may be better suited for mini dental implants, which do not require bone augmentation prior to placement.